The conference venue is very central and there are numerous options for accommodation in Bath. More information on available accommodation in Bath can be found on the Bath Tourism Website
Accommodation...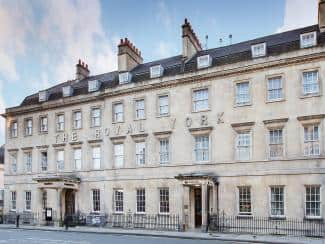 Very central and two minutes walk from conference venue
Quiet waterfront location, 15 minutes walk from conference venue, 7 minutes walk from the train station
Premier Inn, Bath City Centre Hotel 4 James Street West, Bath, BA1 2BX
Central location, 12 minutes walk from conference venue
Central location on historic Great Pulteney Street, 12 minutes walk from conference venue
Harington's Hotel, 8-10 Queen Street, BATH, BA1 1HE
Small private hotel 7 minutes walk from conference venue
Large hotel 5 minutes walk from conference venue
Getting There.....
The PROMPT Symposium will be held at The Assembly Rooms.
Address: Bennett Street, Bath, Somerset, BA1 2QH
Telephone: 01225 477173
Email: bathassemblyrooms@nationaltrust.org.uk
OS Grid Ref: 156:ST749653
Detailed information and interactive maps on how to get to the Assembly Rooms in Bath can be found on this page of the National Trust website.
By rail
Bath Spa station, which is just a 15 minute walk from the Assembly Rooms Conference Centre, is connected to London and the South West by Intercity services. Bath also has direct rail links to Cardiff, Salisbury and Southampton. Regular services to Bristol Temple Meads connect with services to Birmingham and the Midlands. National Rail enquiries: 08457 48 49 50 or visit National Rail
By car
The M4 motorway joins Bath to London in the East and Wales in the West. The M5 links the city with the Midlands to the North, with Somerset, Devon and Cornwall to the South. Bath is best accessed from J18 of the M4.
Parking in Bath is limited and can be expensive. If you plan to travel by car it will be wise to check with your accommodation to see if there is available parking. There is no designated parking at the Assembly Rooms.
We suggest you use Bath's Park & Ride facilities wherever possible. There are several council run Park & Ride sites serving Bath City Centre just a few minutes walk from the Assembly Rooms.
Click here for the following information: Bath Park & Ride services and parking details in and around Bath
By bus
The Assembly Rooms is a 15 minute walk from Bath's main bus terminal and local services stop very close to the venue. See details of the local bus services in and around Bath.
By coach
Regular National Express services operate between most major towns and cities in Britain. For further information contact either the Bath Bus Station on 01225 464446 or National Express direct on 08705 80 80 80 or via their website.
(The PROMPT Maternity Foundation is not responsible for the content of any external sites)
By air
Bristol Airport is the closest airport to Bath (20 miles). The Airport Flyer Express links the airport to Bristol city centre and Bristol Temple Meads train station. The Bath Bus Company also links Bristol Airport directly to Bath. London Heathrow (101 miles) and Gatwick airport (140 miles) are larger, and have good rail and coach links as well as car hire facilities.